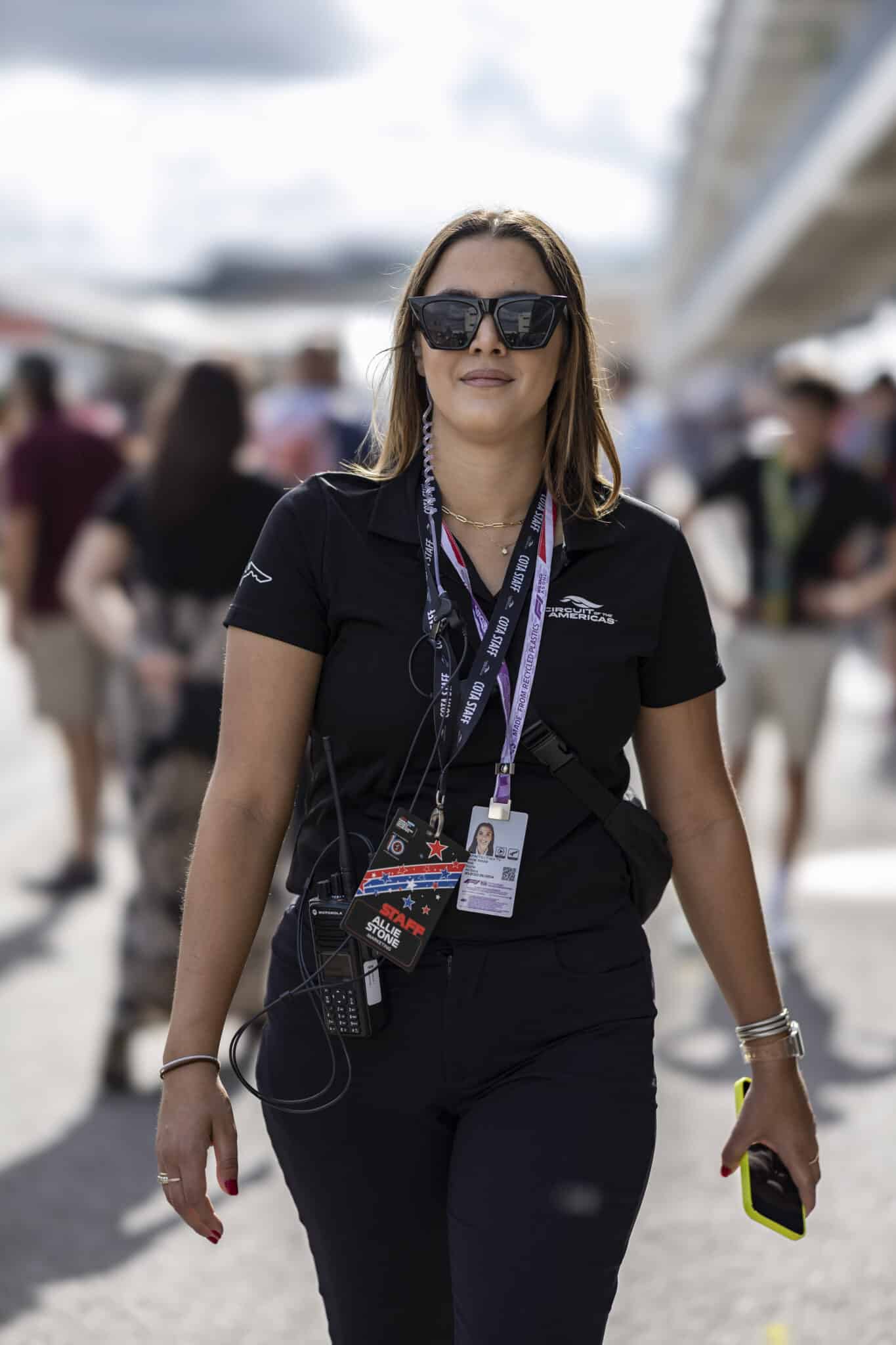 INSIGHTS
Allie Stone – Director of Content & Social Media, COTA
"The racing world may seem large, but it really is a close community. I love walking through the paddock each year and seeing more and more familiar faces."
Allie Stone is the Director of Content and Social Media at Circuit of The Americas in Austin, Texas.
Over the last 3 years Allie has used her passion for content creation, storytelling, and social media management to share the work of the Circuit of The Americas mainly promoting the amphitheater events.
During this time, she has witnessed first-hand the rapid growth of the Formula 1 fanbase in the United States and was thrown into its weird and wonderful world in just her second month on the job. She has loved it ever since…
Where it all began…
Growing up, I spent my whole childhood in team sports from soccer to basketball to a brief stint in gymnastics. I loved the feeling of being a part of a team. Soccer turned out to be my passion, which brought me to the University of Mississippi playing at the DI collegiate level. After college, I wasn't quite sure what I wanted to do professionally, but I knew I wanted to feel a part of a team again. After starting in my current position at Circuit of the Americas (COTA), I immediately felt that sense of camaraderie I had growing up. This marketing role has been my ultimate dream job.
My role in 10 words or less
Motorsports and live event content creator. 
Why what I do is in important
My job is essential because I'm the one telling our story. Usually, social media is the first-time people interact with our brand. Whether it is an ad that we intentionally put in front of you or a post that your friend sends you, I make sure that you have an overall great experience the first time you digitally interact with us. Balancing what's trending with our tone and branding can be tricky, but that's what makes the job interesting.
My first race
I was thrown into motorsports after only one month on the job, and that first motorsports event happened to be F1. For my first race, it was epic. In 2019, COTA sold out of all tickets for the race, witnessing hundreds of thousands of people throughout the weekend. 
My most challenging moment
My most challenging moments usually take place every year during race week. We work long hours and the amount of content needed triples over what I normally create throughout the year. Trying to decide what will give us the best engagement and awareness can be difficult at times. We like to highlight the entire event, not just the cars on the track, and at COTA, there is a lot more going on addition to the race itself.
My proudest moment
My proudest moment was easily Sunday night after the 2022 race. You get a euphoric feeling after spending an entire year planning, promoting, and then finally executing. Knowing that my work was a part of a fan's amazing experience is the whole reason why I love and do what I do. Seeing the positive responses on social media makes all the long days worth it.
An F1 memory I will never forget
For the 2022 race, with help from SMG, I got to hand deliver gifts to each of the drivers. We gifted them boots from a local business here in Austin in addition to personalized record players, as we are the live music capital of the world. Over the past three years, I have become an avid fan of F1 and getting to interact with the people I watch on most Sundays of the year was awesome.
Vinyl, cowboy boots….and dog toys for Lewis to celebrate COTA's 10th F1 anniversary!
How I've worked with SMG
Sports Marketing Group has helped us in a tremendous way. Usually, I work closely with the team to come up with marketing strategies and possible PR opportunities throughout the year. Once F1 has touched down in Austin, I am working closely with Tom and Abi to plan PR and content pieces. 
My advice to others in the sports industry
Network as much as you can! The racing world may seem large, but it really is a close community. I love walking through the paddock each year and seeing more and more familiar faces. Making connections can open so many doors when it comes to content creation. I've had the pleasure of filming behind the scenes in the garages, talking directly with drivers, accessing the grid on F1 Sunday, and so much more. All of this allows me to film and shoot unique content for COTA.